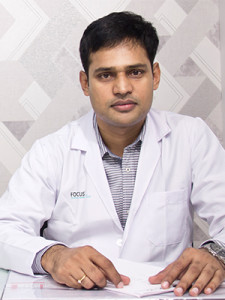 Most people who meet Dr. Ajay characterize him as extremely personable, charming and dedicated. He believes in educating and informing his patients about the best treatment options and his caring persona draws many word-of-mouth referrals. Dr. Ajay is a General Dentist, however he has speciality in Prosthodontia and Implantology.
Dr. Ajay Krishna passed his Bachelor's in 2002 and went on to complete his Master's in Prosthodontics in 2008 from the prestigious M.G.R. University. He stood second in the university in post-graduation exam. In the initial days, He was associated with dental college as faculty member and professor. He as several papers and publications to his credit.
He has recently attained F.I.C.O.I (USA) fellowship.
He is the International congress of Oral Implantology fellowship practitioner recognized by ICOI USA. He as placed more than 2400 Implants.
Dr. Ajay is the first B.P.S. Prosthodontist in Hyderabad. He specializes in Implantology, B.P.S. Dentures, Smile Makeover & Full-Mouth Rehabilitation. He underwent B.P.S. Denture training from ICDE, Schaan, Liechtenstein, Germany. He is also mentor for one of the leading Implant Systems.
He is the only doctor who is in the expert panel review committee of a leading Implant system.
He was awarded "Hyderabad's Best Dentist" for year 2015.
He was also nominated for Health Business Leader awards 2014.
He was associated with Apollo dental and many other dental centers in Hyderabad and Bangalore before opening Focus Dental Care in 2010.
He enjoys spending time with family and traveling.
Dr Ajay can be contacted at drajay@focusdentalcare.com